Thrifty transformation: How to paint a door to look like wood
For a few years now, I've been wanting to spruce up the side door that opens into our garage. This is what it looked like "before:"
As you can see, there's nothing really wrong with the door, per se. (Yes, normally the hardware is intact.) 😉 The only part that really bothered me was that the trim around the windows was left white. I originally planned on simply painting that to match the tan on the rest of the door.
But after thinking it over, I decided to make this door look richer – like a brand new, expensive, solid wood door. And I knew I could achieve the look using my faux wood grain painting technique. This technique will give the appearance of a high-end, solid wood door – even close up – for under $40!
After removing the hardware and cleaning off all the cobwebs and bugs, I gave the door a once over with a coat of exterior flat paint.
I chose Clark+Kensington® Paint & Primer in One – in Copper Pot, purchased at Ace Hardware.
I chose the orange color because I wanted a finished result that mimicked a cedar/cherry wood look. I would recommend choosing a base paint color that matches the undertones of whatever wood you want to replicate.
After the paint dried, I mixed together portions of two tubes of Minwax Water-Based Express Color Wiping Stain and Finish.* I chose mahogany and walnut and ended up using a little more of the mahogany. (This thicker wiping stain or a similar gel stain is key for this project. Regular stain will not adhere to painted pieces.)
Then I used a good paintbrush (Purdy is my all-time favorite) to apply a coat of the mixed stain to a small section of the door, attempting to create a natural wood look.
I had my laptop nearby the whole time, displaying a photo of a door I wanted to replicate. This gave me a clear picture of the direction, appearance and texture of real wood grain.
I used this handy wood graining tool to create realistic knots and different types of wood grain patterns in the stain.
This tool is tricky to get the hang of but, once I did, I was impressed with the results!
Together, the exterior paint base and wiping stain create a superior, durable finish. I used this exact same technique on our front door and it has held up spectacularly well for several years. We have a dog that jumps on the door every day and there is not one single scratch in the finish!
Here's a look at our "new" side door:
The door hardware was previously gold. I spray-painted it oil-rubbed bronze to give it a more modern look. I'll share all the details of that project in a post later this week.
What do you think of my thrifty door transformation?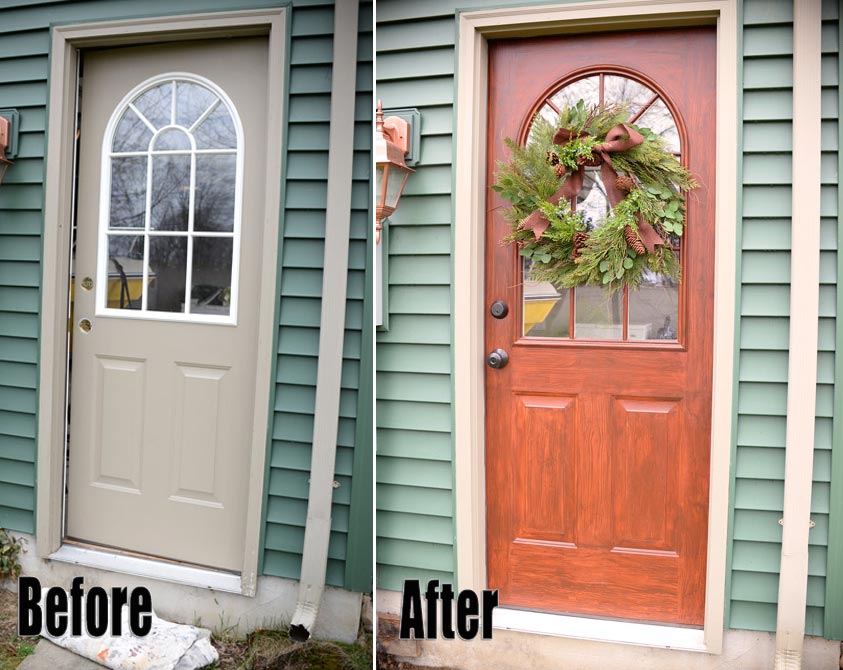 * Links to products in this post are affiliate links. Purchasing though these links will not cost anything additional, but a small portion will come back to Living Rich on Less, helping me continue to provide great, free content. Thanks in advance for your support.
I'm linking this up to My Repurposed Life.