Hickory floor sneak peek (plus hardwood cleaning tips)
We have officially finished installing solid hickory hardwood flooring on our main floor. I still have to repair some wall dings and install baseboard molding throughout, but getting the flooring part done feels great!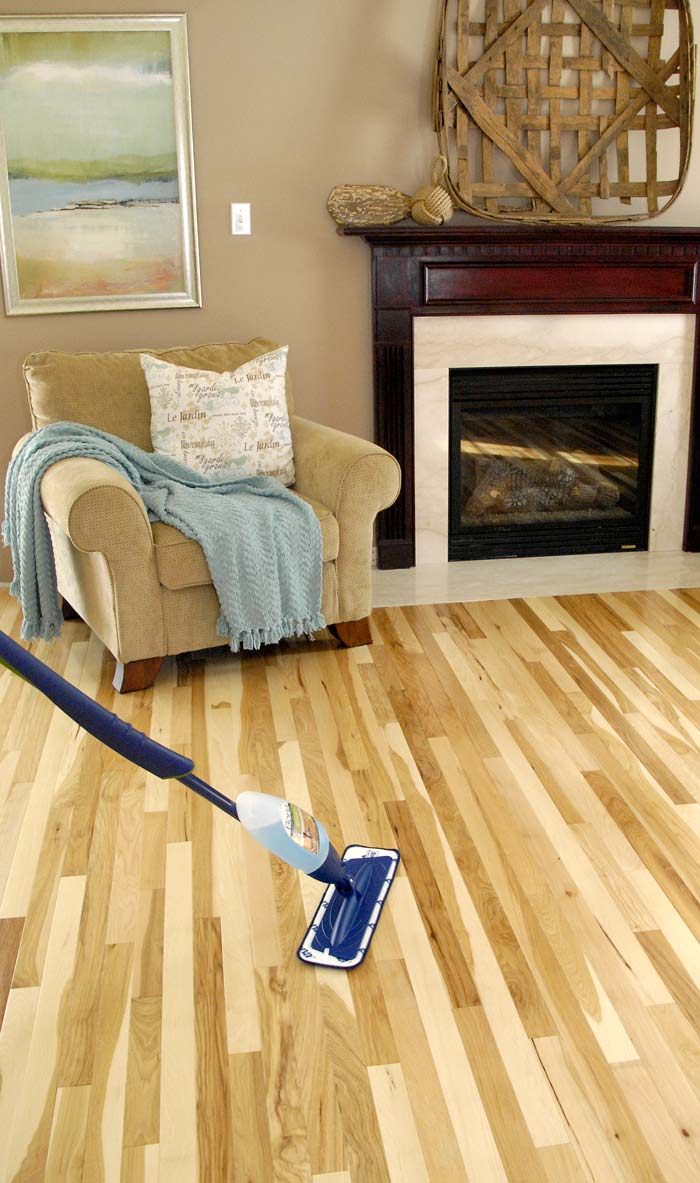 As soon as the last board went in, I started searching for products to clean my brand spankin' new floors. If you've been following this blog for awhile, you know I'm a bit of a cleaning product/tool junkie. I could literally spend 45 minutes browsing the supermarket's cleaner aisle. (I never claimed to be normal, people.)
Over the past few years, I've used a Swiffer® SweeperVac to get most of the dust and debris off my hard floors before mopping them. It seems to work pretty well, although I've had to replace the machine several time. (Apparently, it's not built for longevity.) Since I already had a Swiffer machine on hand, the first thing I tried on the new hardwood floors was a Swiffer wet cloth. However, I didn't like that the wet cloth got used up and dried out before I was done with all the rooms. And I'm not crazy about the idea of using two wet cloths every time I clean my floors. Also, it might just be my "new wood floor paranoia" but I thought they left a smidgen of film behind on the floors.
Next, I tried my Oreck® Grab-It & Steam-It®. I really believe this machine does a great job of cleaning hard floors. But it takes a bit longer to get the job done (you need to go slow so the steam action can work). So I prefer to reserve this tool for when I have time to do a really good deep cleaning.
As far as a go-to tool for my everyday hardwood cleaning needs, my new favorite is the Bona® Hardwood Floor Mop.
I'm digging this mop for a few reasons:
1. I don't have to buy cloth refills. (It comes with a washable, microfiber cleaning pad.)
2. I don't have to plug it in or buy batteries for it.
3. It has a wider mop head so I can cover more ground faster.
4. It's made specifically for hardwood, so no residue or damage.
5. It has a built-in sprayer activated by squeezing the handle, so I can control the juice. (It comes with a refillable cleaning cartridge.)
So right now my hardwood floor regimen consists of using my SweeperVac to catch the dry debris/dust and then using the Bona® Hardwood Floor Mop to clean the floors.
Here are a few additional tips I've found for maintaining hardwood floors:
Lay down mats both outside and inside your exterior doors to lessen tracked-in dirt. Consider including a shoe removal area to avoid damage from water, de-icers, etc.
Prevent marks by using floor protectors under furniture and rugs in children's play areas.
Save money when using disposable electrostatic cloths by using both sides before tossing them.
Do not use a vacuum with a beater bar attachment, which can scratch a wood floor's finish. Instead, vacuum floors with a floor-brush attachment on a vacuum cleaner or an electric broom.
Prevent standing water. Hardwood floors should be damp-mopped only, using a cleaner that's safe for wood floors.
Do you have any tips to share for how you clean your hardwood floors?
Disclosure: At my request, I received a Bona® Hardwood Floor Mop to review on this blog. As always, all text and opinions are 100 percent mine.