How I organize my pantry
Our current home is the only place we have ever lived that included a full pantry closet in the kitchen. Let me tell you, it is a glorious thing.
Today I want to share with you how I've organized it, and explain what's working for our family and what could improve.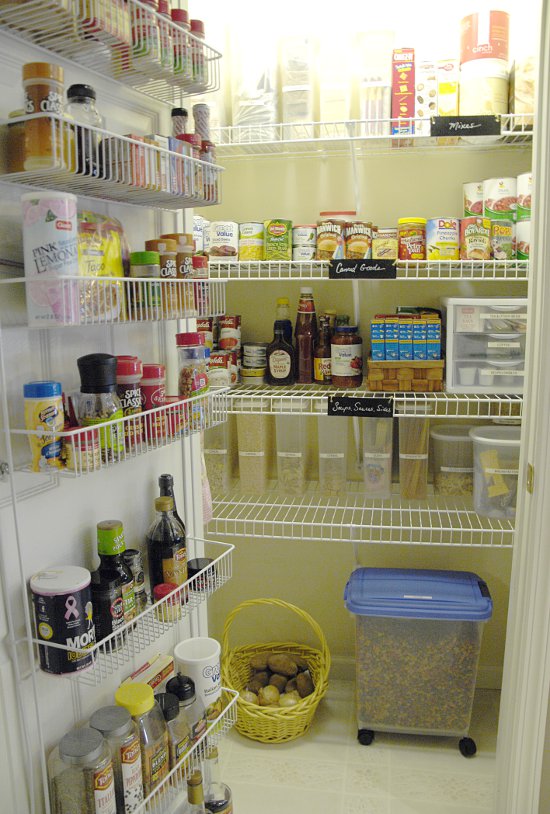 When we bought our home, the pantry was already outfitted with wire shelving units in the closet and on the pantry door. I've never been crazy about wire shelves. They tend to bow quickly under the weight of items, making it difficult for cans and such to stand up properly. The one thing I do like about them is that they don't collect much dust. If I ever decide to rework our pantry (I have a long list of other projects to do first), I'd like to replace the wire shelves with wooden versions and include at least one more. The vertical space is not being maximized. There is a lot of room between that top shelf and the ceiling.
I absolutely love this door organizer (you should be able to find one at any major home improvement store)! I don't have to dig for spices in the back of a cabinet or use precious counter space to display a spice rack. And since the pantry is located near the stove, I can quickly access any spices or mixes I need. Efficient! I alphabetize my spices and store larger canisters and bottles on the bottom shelves, which have more head space. I don't have to hunt long for something and I always know what I have on hand – no wasting money on multiple, unnecessary supplies.
I use this same approach when organizing canned goods on the pantry shelves. I alphabetize and store like items together.
I purchased a handful of inexpensive, BPA-free plastic containers from Walmart for storing dry items. I keep the cereal on a lower shelf so Tiny can easily serve herself. These storage bins have created an organized system for me that really works because I only buy stuff when a container is empty. No more half-full boxes stuffed in the back that need to be checked before heading to the store. I can quickly and easily take inventory of what I've got left.
On the floor of the pantry, I keep a storage bin for dog food and a basket for produce.
Although my pantry probably won't win any awards from Martha Stewart, it works well for our family. It is organized and labeled and makes grocery shopping a breeze.
Do you have any tips for organizing a pantry?