Pottery Barn knockoff Noel sign
I love the look of this Noel sign from the pages of Pottery Barn: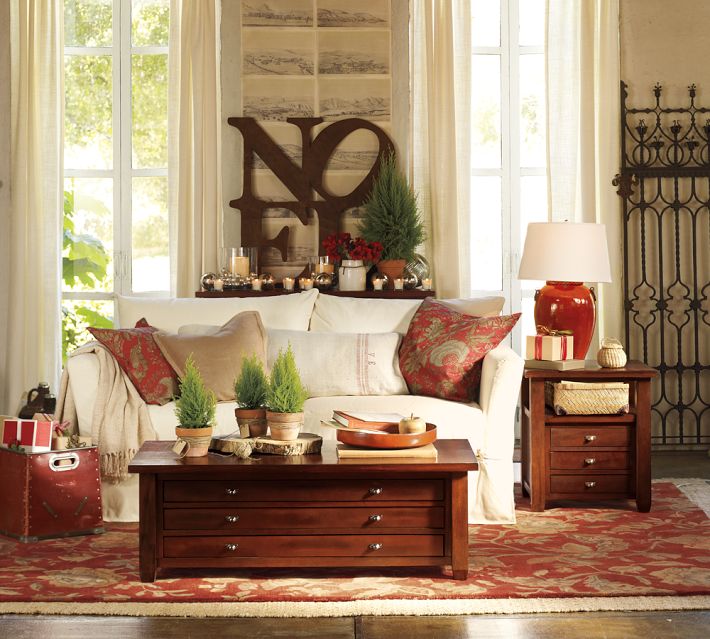 I'm not so enamored with the price tag, however. Cue brainstorming for a thrifty, DIY version.
I headed to Hobby Lobby and picked up four, large MDF letters for $3.50 apiece. I also used a 40-percent-off coupon that brought the price down further.
As soon as I got home, I took the letters outside and gave them each a coat of my favorite black primer.
I brought the primed letters inside to dry in warmer conditions.
Here's where I veered a bit from the Pottery Barn version. My goal was to create letters that looked like aged metal. I used this Etsy sign I saw online as my inspiration:
Next, I lined up a bunch of containers of Modern Masters® Metallic Paint.
The main colors I used for this project were Copper Penny, Pewter and Black Pearl.
I gave the letters a base coat of Copper Penny first, since it was an opaque color with fuller coverage.
After that dried, I used a sponge to apply the Pewter color randomly.
Then I used the same technique to dab on two more coats, one of Black Pearl and one of a mixture of Black Pearl and Copper Penny.
Finally, I turned the dried letters over and stuck on a few Command™ Strips to hang them on the wall. I'm not a big fan of punching holes in my walls, especially for seasonal decor.
Here's the final result:
What do you think of my "aged metal" Pottery Barn knockoff Noel sign?
Special thanks to Modern Masters for proving, at my request, the metallic paint needed for this project. As always, all opinions – and sweat equity – are 100 percent mine. 
Before I go today, I want to announce the two winners of the $100 gift cards from Duluth Trading Co. Merry Christmas to: