Tale of a tired china cabinet (a furniture redo)
Hello friends! I hope you're staying warm. We've been experiencing very cold temps here in Pennsylvania. Bring on spring! 
Today I wanted to share a sneak peek at my next furniture project. I found this china cabinet – or buffet and hutch, whatever you call it – on Craigslist for $40.
We had to drive a little over an hour to pick it up with our trailer, but it was worth it. It's a solid piece with a traditional design that's not too fussy … right up my style alley.
I have visions of this piece completely redone and sitting in my dining room. Here is the finish I am going to try and replicate: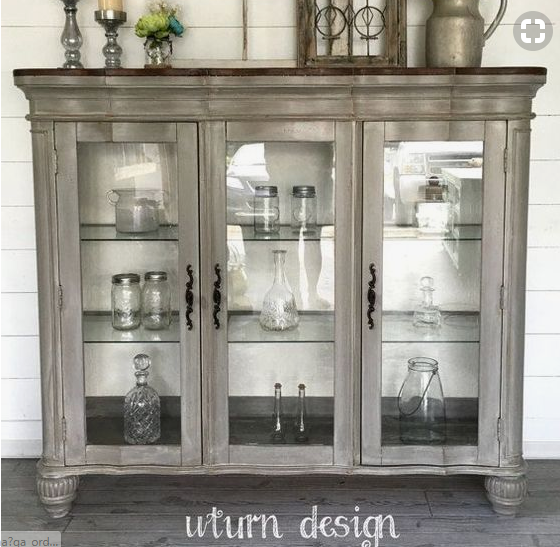 The cabinet has some interesting neoclassical features, such as the lions head hardware. If I had to choose a style that I lean toward, it would be traditional. Traditional furniture takes inspiration from English and French styles of the 18th and 19th centuries such as Baroque, Rococo, Romantic and Neoclassical. In my home, I prefer furniture with less ornate details, but I do appreciate substantial pieces that showcase good craftsmanship and quality materials.
Matt thinks I should keep the lions head knobs. If I do, maybe I'll spray paint them a darker bronze color. What do you think? Should I change out the hardware … keep it and spray paint it … or leave it alone?
The silverware drawer is felt-lined, which is kind of cool. It just needs a good cleaning.
Here are some of the products I'm using to refinish the piece.
Stay tuned for progress on this project coming soon!
Have you ever defined your own furniture style? The following article may help provide some clarity: https://www.homemakers.com/styles.