A few years ago, I bought this wooden dresser at a thrift store for $80.
The picture was taken after I had already removed most of the drawers and started stripping off the finish. I have to admit, $80 is a little salty for me for a thrift store purchase. But this was a solid wood piece in great condition, made in the U.S.A, with dovetail drawer construction.
I knew it would work perfectly as a buffet in our dining room, so I immediately stained the piece to match my table and chairs.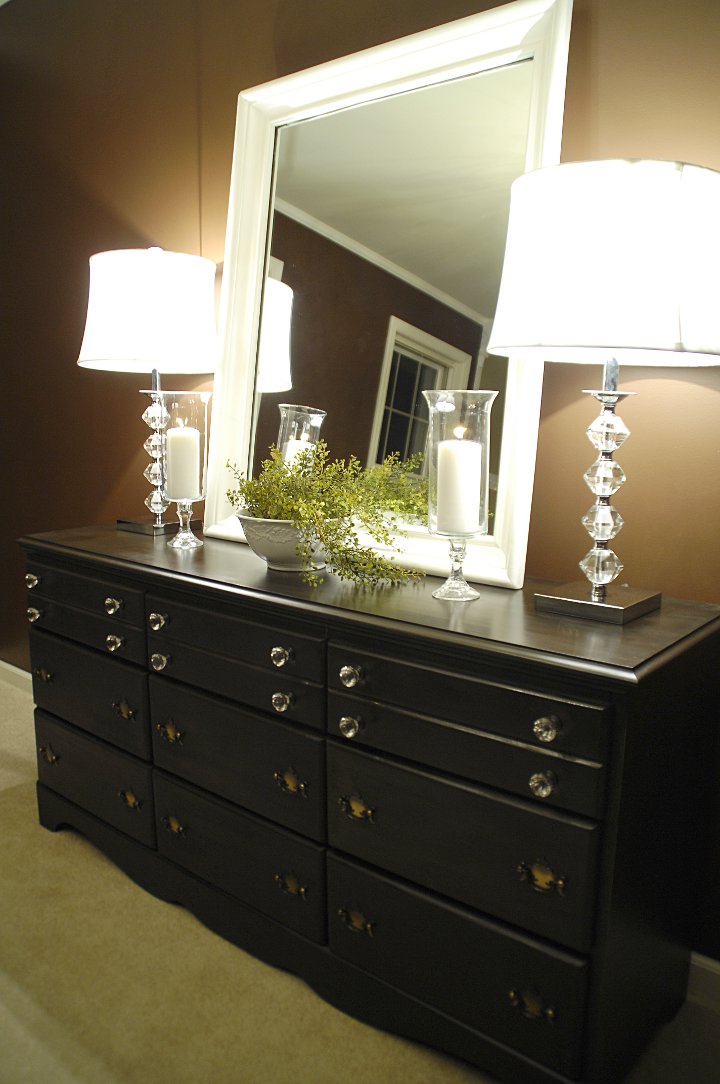 Fast forward to last week. I was feeling like that dresser was looking a bit dark and heavy in the room. So I decided to give it a second makeover, because I'm crazy like that. 😉
I scrubbed the dresser and drawers down with a deglosser first to help remove any wax residue and prepare the wood to take paint.
For this project, I used Americana® Decor™ Chalky Finish paint. I chose a mixture of two parts Lace to one part Everlasting.
I applied the paint using my HomeRight® Finish Max Pro Fine Finish Sprayer, giving everything two coats of the chalky finish paint.
I'm notorious for grabbing whatever is within reach to help me out. 😉
After the paint dried, I used my orbital sander to smooth out any rough spots and give the edges a distressed look.
In addition to not requiring primer, I'm impressed with how beautifully this chalky finish paint sands down. The finish on this piece was as smooth as glass when I was done.
The next step took my distressed dresser from a furniture piece to a work of art.
I mixed up equal parts of Americana Multi-Surface Metallic™ paint colors in Chocolate, Champagne and Gold. (Americana Multi-Surface paint is available at Michaels.)
I chose the Royal Design Studio Springtime in Paris stencil, placing the dresser on its back so I could easily lay out the stencil pattern and apply the multi-surface paint. This paint will adhere directly to most surfaces and is self-sealing.
Here's a look at the piece after it was stenciled.
I applied a coat of clear creme wax to protect the finish and waited for that to dry.
Finally, I buffed the piece with a soft cloth and reattached all the hardware. Done!
I think this "'new" buffet helps to brighten up the dining room a lot. What do you think?
Don't forget to visit the DecoArt® Multi-Surface website for more crafting ideas and inspiration.
Special thanks to the folks at DecoArt for sponsoring this post and providing the paint needed to complete this project. As always, all opinions – and sweat equity – are 100 percent mine.