Blue master bedroom reveal – and a giveaway!
Happy Thursday, peeps! After, count them, FIVE photo shoots of my master bedroom, I think I finally have some decent pictures to show you. I am now convinced that, if you can master proper lighting techniques with your camera, you can conquer anything.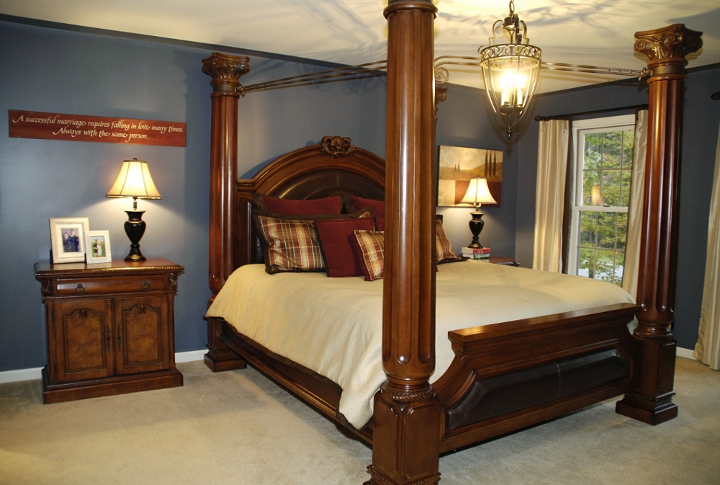 Here is our beautiful blue master bedroom. The wall color is Valspar's Smoky Pitch (4007-4B) from Lowes.
This is what the room looked like before we moved in.
Yes. The ceilings are painted a darker green than the walls. I affectionately call this paint color Fruit Loop Green 'cuz that's what it reminds me of. (I have always despised Fruit Loops, by the way.)
The first thing we did after painting the ceiling and walls was change out the light fixture.
This beauty was a steal at Lowes. It was on clearance for $30.
We purchased our bedding for 70 percent off at a furniture store going-out-of-business sale.
This is the first time I have veered away from the idea that everything in a room must match. Notice the contrast between the walls and the bedding. Yet they harmonize beautifully, don't they?
The two table lamps were purchased at Ollie's Bargain Outlet for $14.99 apiece.
This table was given to me by my mother-in-law. I refinished it to match our existing furniture.
This sign was also a gift from my mother-in-law. It matches the red in the pillows.
The drapes and hardware were purchased from Walmart. Did you notice that I haven't yet finished putting all the photographs in my wall-mounted jewelry case? Yes. The work is never done. Sigh. Plus I had to keep the hubs, tiny (our five-year-old daughter) and our dog out of this room long enough to take these pictures. This room DOES NOT LOOK THIS NEAT ON A REGULAR BASIS. Just keepin' it real, people.
The canvas artwork on the right was purchased for $20 at my favorite discount store of all time, Gabriel Brothers. 
I'm still waiting for the hubs to mount this TV on the wall. We have the hardware to do it; we just haven't gotten around to it yet. Like I said, the work's never done.
So there you have it, a peak into our master bedroom sanctuary. I am really pleased at how this room came together.
Now on to the fun part — TODAY'S GIVEAWAY. Look closely at the master bedroom photos I've posted. Is there something important missing from our room? The first person to send me a comment with the correct answer will win a FREE COPY of Ellie Kay's book, Living Rich for Less. Shipping is on me.
Good luck! I'll announce the answer (and the winner) next week.
P.S. This post is featured over at Beneath My Heart's "Best DIY Projects of October." It's also featured over at House of Grace. Check out these awesome sites.