Easy, DIY wall stripes in the bathroom
Phase I of the master bathroom renovation is in full swing and my latest progress includes creating some easy, DIY wall stripes. If you recall, my inspiration for the space comes from the 2013 Southern Living Idea House.
When I use a room for inspiration, I typically don't replicate that room exactly, but rather pick and choose which portions of the design I want to incorporate into my own space. For example, I love the molding in the first photo and the striped walls in the second photo, so those are elements I'm adding to my master bathroom.
I just finished up the stripes today and wanted to share my quick and easy tutorial for that project.
Before adding any stripes, the first thing I did was paint the entire room. For details on that, click here. To add my stripes, I measured to the spot where my chair rail will go and drew a horizontal line to mark where the bottom of the chair rail will sit (I always use a level to keep my lines straight). My goal was to paint stripes below that line.
Next, I used my painter's tape to mark off six-inch-wide vertical stripes that would alternate between the wall color and my white trim paint.
Note: When taping off the lines before painting, keep in mind that the painter's tape should go on the inside of the six-inch marks on the portions that will not be painted. The painter's tape should go on the outside of the six-inch marks on the portions that will be painted. In the photo below, the stripe on the left remained the wall color, while the stripe on the right was painted white.
I alternated between stripes of wall color and white trim paint. 
After filling in each white stripe with two coats of trim paint, I removed the painter's tape (I always recommend doing this when the paint is still wet). This is the result: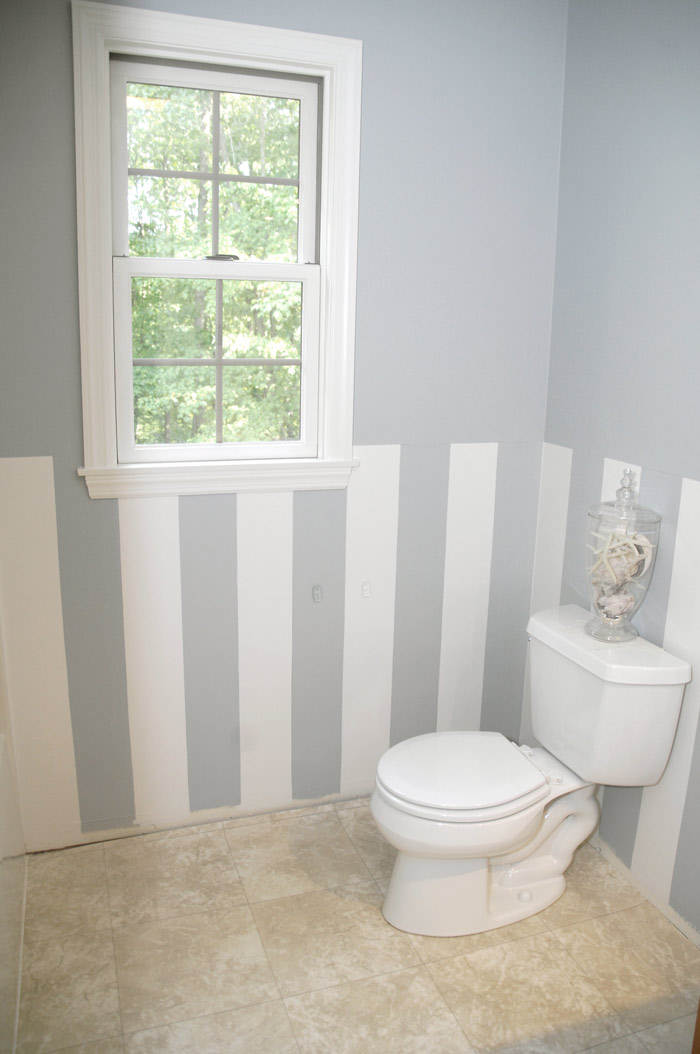 Next on the docket is chair rail and baseboard trim molding.
What do you think of the new stripes?