Fireplace transformation in progress
Apparently my limit on restraining from DIY projects is 11 days, because I'm officially at it again. However, I have to admit that week and a half when I didn't pick up a power tool or paint brush was glorious. My house got cleaned. I actually prepared a weekly dinner menu. Groceries were bought. I saw the bottom of laundry hampers. Essentially, I got a taste of how normal people live.
But, alas, I've never claimed to be normal. So on the heels of our epic hickory flooring project and the "I will pull all my hair out if I have to paint another piece of baseboard molding" project, I've picked up my Purdy brush once again to attack our fireplace surround.
Perhaps you'll recall my post asking for suggestions on what color I should paint the surround. The vast majority of you agreed I should paint it the same color as our trim molding (a creamy off-white), so that is what I'm planning to do. The surround was formerly stained in a mahogany color, which worked great for awhile.
But with all the various woods going on around here – hickory floors, cherry kitchen cabinets, mahogany TV console and side table – it was starting to look a little too, well, woodsy. So I'm painting the fireplace surround. Today I put on the first coat of primer.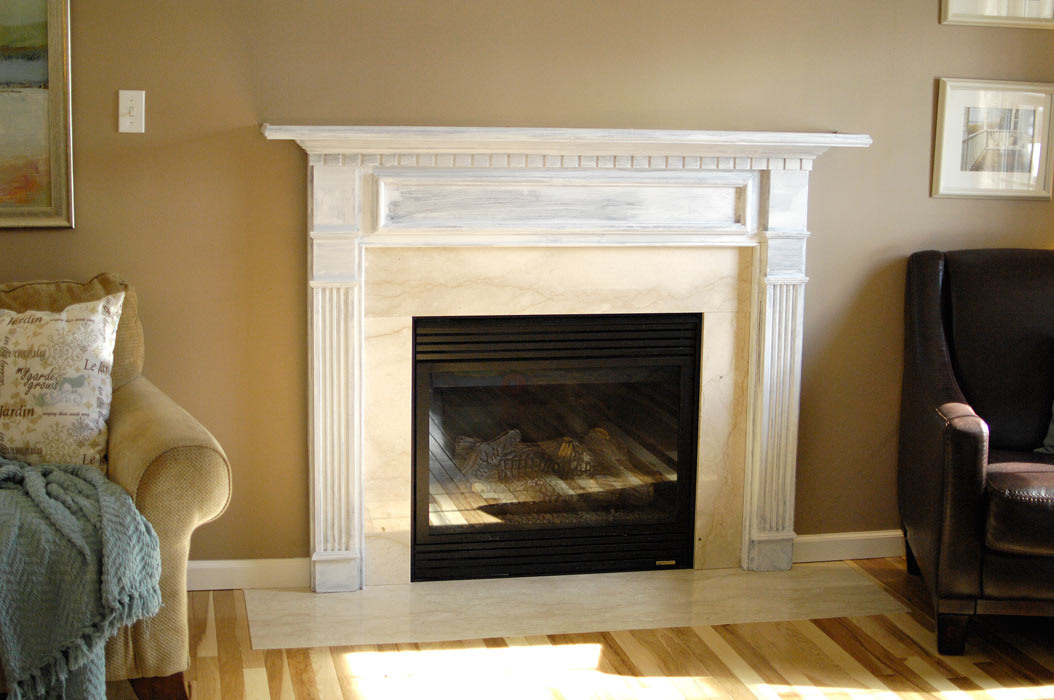 Check out my little photo bomber. 😉
My next question is, should I put a second coat of primer on the whole thing or should I just move on with the first coat of semi-gloss trim paint? I am painting over stained wood that had a thin urethane topcoat. I lightly sanded the finish (and I mean lightly … I can be a bit lazy when it comes to this step). So I'm not confident the one coat of primer will make the paint stick super well. With regard to primer, are two coats better than one or am I just wasting my time?
I'm hoping to knock out this project by the end of the week, so stay tuned for the final reveal.