How I clean my carpets (plus pro tips)
For a few months now, our living room carpet has been mocking me. "Nanny, nanny, boo, boo. Stanley Steamer won't visit you …"
Oh how I wish I could have all the carpets in our home regularly cleaned by a professional. But we are trying to live rich on less up in here, so I'm stuck doing this dirty work myself.
Frankly, the thought of spending an entire day (or two) steam-cleaning the floors in our 2,300-square-foot home makes me want to curl up in the fetal position and chant, "Make the voices stop!" So instead of tackling the whole house in one fell swoop, I have tried to get in the habit of cleaning a room whenever it needs it and I can spare a few hours (uh, they don't get cleaned that often).
Yesterday, all the stars aligned and I experienced a burst of motivation to tackle the living room. What better chore to take on before a Fourth of July picnic than a "quick" steam-cleaning of your living room carpet? (I need help, people.)
I began by removing the light furniture and accessories from the room and giving everything a good dusting and vacuuming, which included the windowsills and baseboard trim.
Next I sprayed spot cleaner on all the "mystery" stains.
Apparently, our neighbors are eating snacks and playing rugby in our house while we are away, because no one in our family is admitting to any of the messes I've discovered.
I used the bottle of spot remover that the lovely folks at Oreck gifted me at the Haven conference.
Then I loaded my machine with concentrated Bissell rug shampoo.
This stuff is not cheap! It costs approximately $20 and an entire bottle is gone after about a room and a half. I found a recipe for a homemade cleaning solution for steam cleaners, but I have yet to try it.
Homemade cleaning solution for steam cleaners
Fill the machine with equal parts white vinegar and warm water. Then clean according to the manufacturer's instructions.
Supposedly, the acid in the vinegar dissolves stains and also neutralizes odors. This method seems like a great inexpensive and chemical-free option. Have any of you used it? I'd love to get your feedback.
Here I am working my way around the room. Check out those hot gym shorts.
And finally … my now stain-free living room carpet.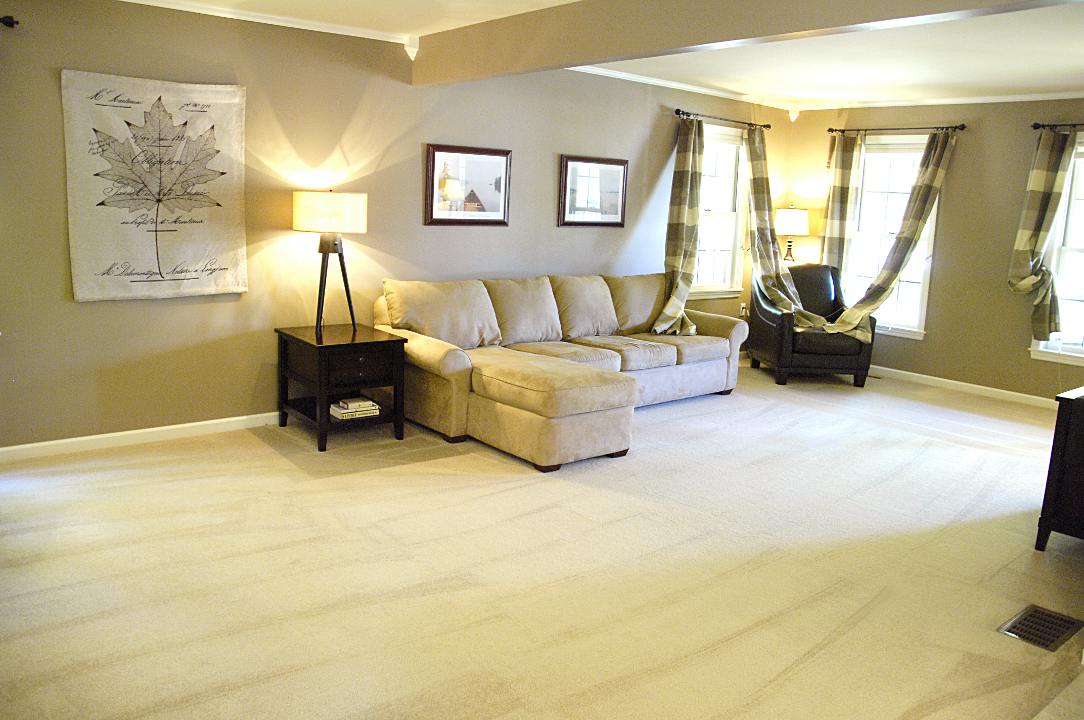 Isn't it beautiful?
Below are some tips from the pros on how to effectively clean carpets yourself.
1. Thoroughly vacuum the area you want to clean to remove any loose dirt.
2. Pre-treat any problem areas.
3. Use a steam cleaner according to the manufacturer's instructions. Avoid over-wetting your carpet. Don't go over heavily soiled spots more than twice. Berber, multi-level or looped carpeting retains more moisture. For these types of carpets, do not repeat the cleaning passes. If additional cleaning is needed, allow carpets to dry before re-cleaning. Overlap passes slightly to cover all areas. Keep the machine moving so the vibrating brush does not agitate in one place.
4. Open windows and doors or turn on an air conditioning or heating unit to speed drying time. To prevent staining, do not put furniture back before your carpet is completely dry. (Information courtesy of Rug Doctor)
For more information, click here to check out some great carpet cleaning videos from eHow home.
Happy carpet cleaning!
I'm linking this up to Tutorials and Tips Tuesday and Love of Family and Home.