How to pick the right paint color every time
I've painted A LOT of rooms in my day. And that means I've also spent A LOT of time poring over color swatches in nearly every home improvement and box store out there.
I've also desperately wanted to stage interventions on many occasions while watching well-meaning DIYers order can after can of garish color. (Perhaps a few were creating Barnum and Bailey-themed kids rooms, in which case they'd be off the hook … maybe.) 
The point is that choosing the right paint color can be challenging. (I've literally broken a sweat over it.) Fortunately, over the years I've discovered a few secrets that now allow me to choose the perfect paint every time (almost). Today I'd like to share those secrets with you so you can "go forth and prosper" in the paint department.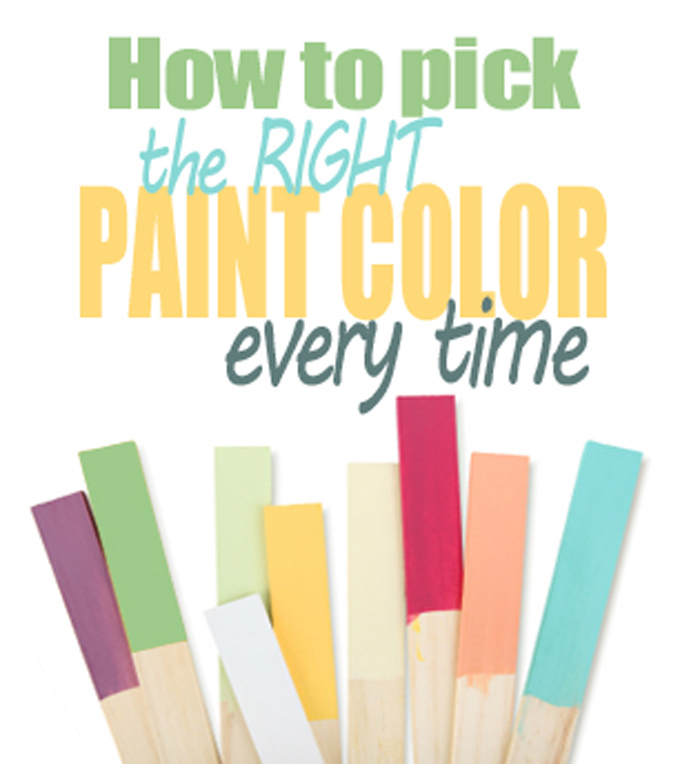 1. Start with the right brand and finish.
As mentioned earlier, I've ordered paint in nearly every store that sells it. But in hindsight, I would not recommend this sort of brand-hopping. It's risky, as not all paint is created equal. I would encourage you to stick with the brands you love.
My personal favorites are Valspar (sold at Lowes) and Sherwin Williams. Why? Because I notice fewer brush and roller marks when I use these brands of paint and they offer excellent coverage. That translates into a smooth, professional-looking finish with fewer coats necessary.
Speaking of finish, keep in mind that shine accentuates flaws. So if your goal is to hide imperfections rather than to draw attention to them (think walls and floors), you probably want to choose a more matte finish. Of course, matte finishes have their drawbacks, too. The more matte the finish, the less durable and harder to clean the surface becomes.
For most of the rooms in my home, I chose an eggshell finish, which is sort of a cross between a flat and satin finish. For my bathrooms, I chose a satin finish (not flat, not glossy) due to its durability in high-moisture areas. I have recently fallen in love with the Sherwin Williams Bathroom Paint.
For more details on how to choose the right finish, check out this helpful article from Apartment Therapy.
2. Bring free paper swatches home to "test" colors in your room before buying.
This is a very important step. The fluorescent lighting in stores is probably nothing like the lighting in the room you're painting. I never buy paint without first bringing a bunch of paper swatches home and taping them to the walls to see how they look in the space. In fact, I even move the swatches around the room to see how the color changes based on whether it is in a shadowy or lit area. And I observe the swatches in both daytime and nighttime lighting.
There have been several times I was sure a color would be perfect for a room but discovered it was all wrong when I brought the swatch home and tested it on a wall.
Note: I have never actually bought one of those small pots of sample color. It is an extra step I've just avoided to save time. But if I was painting something like the entire exterior of my home, there is no question I would go this route.
3. Consider sticking to neutral hues.
When most people hear the term "neutral color," they probably think brown or gray. But did you know there are neutral versions of lots of different colors?
A neutral color is defined as a color that does not attract attention or is not associated with any single hue. Some common neutral colors are beige, ivory, grey, taupe, black and white, as well as various shades of them. A neutral can also be made by mixing corresponding hues.
I've used neutral hues in every room of my home. They range from slate blue to chocolate brown to gray, etc. I even consider the red I used in my half bathroom to be neutral. (I'm probably breaking the rules on that one, but red has often been called a neutral in the world of fashion, so why not?)
To see the paint colors I've used in my home, check out my house tour here. And for a list of all the paint colors in my home, click here.
I love using neutral paint colors because they provide the perfect backdrop for showcasing furniture, linens, etc. And they tend to increase the value of your home because they are pleasing to the majority of buyers.
4. When in doubt, go one shade lighter.
Colors will typically look darker on the wall than on the swatch. One caveat: The glossier the paint, the lighter it will look on the wall.
5. Remember that color is a connecting tool.
I've always sought to create a cohesive feel in my home by using paint colors that complement each other. I find this to be especially important when rooms flow directly into one another. For example, my iced coffee-colored living room flows into my chocolate brown dining room. The two colors work well together.
I also make sure to integrate colors from different rooms in my decor. For example, I have a few chocolate-colored furniture pieces in my living room. And my kitchen (which flows into my dining room) has a lot of green accent pieces. So in my dining room, I keep a bowl of green apples in the center of the table. Picking up similar colors in connecting rooms helps create a high-end, designer look.
6. Consider choosing linens and decorations before picking paint.
This is a piece of advice I wish I would take more often! I can't tell you how many times I've found the perfect shade of paint, painted an entire room, then spent the next six months desperately trying to find curtains, art, etc., to go with the new color. A better way might be to purchase linens and decorations you love and then pick a paint color that works with what you've bought.
For more information on avoiding the pitfalls of painting, I love this article on the 22 biggest painting blunders.
Do you have any painting tips or tricks to share?
I'm linking this up to Home Stories A to Z and Fluster Buster.