Happy Thursday, everyone. Today I am thrilled to share a finished project with you that I started working on last March. If you follow this blog regularly, you'll remember me griping on numerous occasions about how I really needed to get the dining room buffet/sideboard finished. Well, I am happy to report that it is indeed done.
After we moved into our house last January, I went cruising around blogland for ideas for the "new" place. I was smacked right in the face with photos of the most glorious dining room I'd ever seen (OK maybe that's a bit dramatic; let's say it was the most glorious dining room that I could actually afford to replicate). It was Sarah's over at Thrifty Décor Chick. Uh.May.Zing! I decided I was going to literally rip off her entire design for my own dining room.
The only problem? I couldn't find a buffet/sideboard that was affordable in the color I needed.
Fast forward a few months to when I found this "gem" at a local thrift store.
It wasn't super cheap at $80. (Trust me, Dave Ramsey, I tried to talk her down on the price with no luck.) But it was still waaayyy cheaper than anything new I had looked at. And it was solid wood with dovetail drawer construction. The best part? It was made in the good old U.S. of A. So I bought it and patted myself on the back for my patriotic purchase. Here's the original hardware.
After I got the piece home, I went to work stripping the old varnish and stain. I used these materials to do the dirty work.
I mixed Jacobean and Ebony stains to get my desired look. The goal was to match my dining room table and chairs; they are really dark.
Here are the drawers stripped and then re-stained.
After months of procrastinating, I finally plowed through the project and finished it. (Have I mentioned how much I despise refinishing furniture? Sorry, Sarah.)
Here is my "new" buffet in all its glory.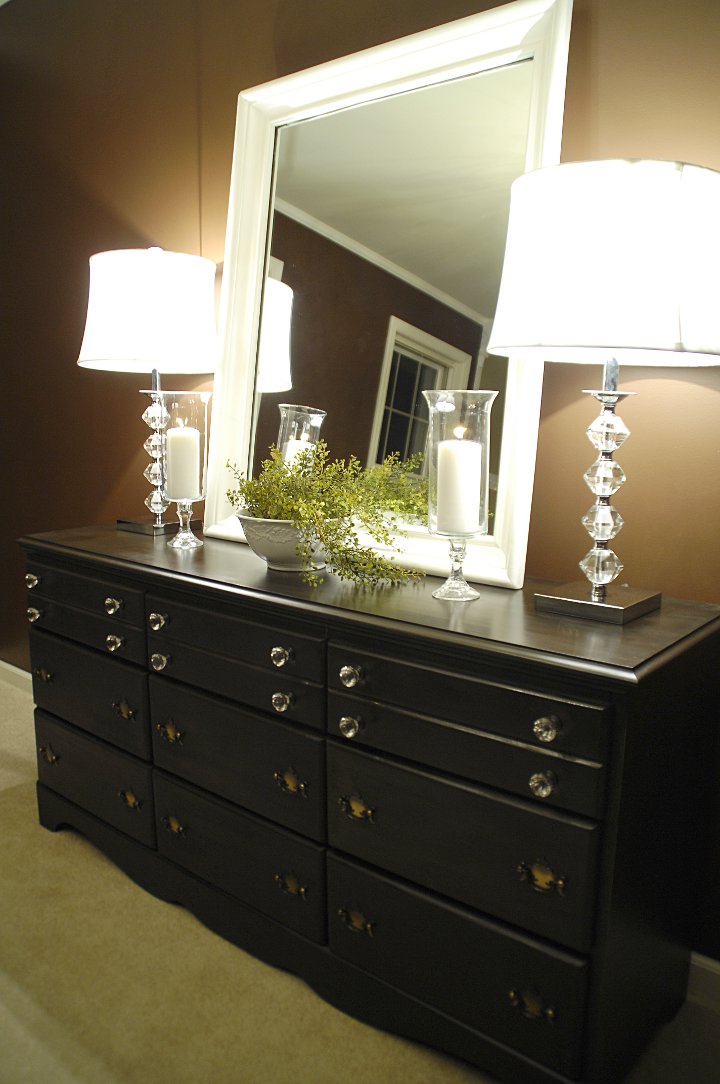 I love the fact that the buffet matches my dining room table and chairs perfectly. I did order new glass knobs for the top drawers. It really gives the piece that "wow" factor.
I also love the fact that I now have more storage for things like games, table linens and fine china. (By "fine china" I mean the set of Japanese dishes – service for 16 – that I got for $5 TOTAL at an estate sale. Score!)
So there you have it, friends, a dining room buffet done on the cheap.
Sorry for the nighttime photos, by the way. I really need to learn to manage my time so I can take photos during the day on the weekends and use that lovely natural light.
Before I go, check out the winter hot cocoa station I set up in my kitchen this week. Tiny loves it!
Stay classy and thanks for stopping by. (Name that movie.)