Master bathroom details (plus a giveaway winner)
I am happy to report that the master bathroom renovation that began last September (I know … embarrassing) is approaching its finish line. I wouldn't feel so badly about how long it has taken if, say, we were ripping out walls, replacing the tub or changing out flooring.
But no. This redo only involved minor, aesthetic updates. I've come to accept that some projects just have a habit of taking forever. I can't really put my finger on why but I suspect it has something to do with my tendency to become unhealthily obsessed with Netflix series take on too many projects at the same time; you know, a sort of "lots of pots on the stove yet nothing's ready to eat" situation.
Regardless of my personal shortcomings, I have enjoyed putting together this master bathroom. My goal was to create a light, neutral space with a natural, coastal feel. (We live in the woods near a lake).
I started with a lake-inspired gray on the walls, adding a few white stripes and an inexpensive chair rail to give the space a more finished look.
Then I built a shelf from scrap wood and added some free DIY wall art.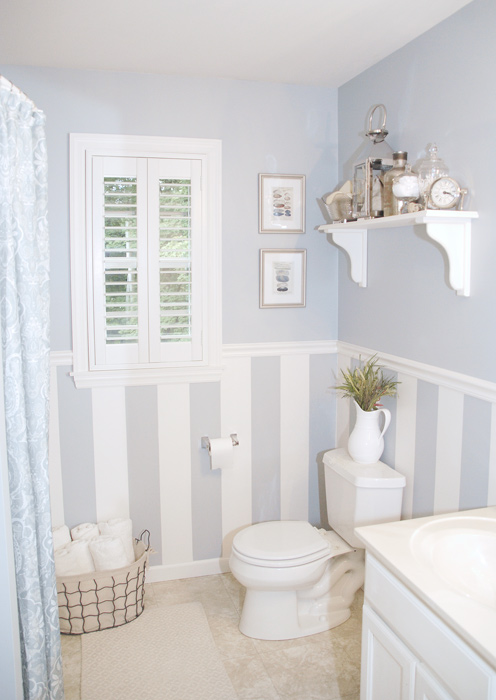 The DIY driftwood mirror I made (without nails or screws) contributes to the coastal feel.
Two things I added to the room that, I believe, make it seem more upscale are the plantation shutters and the sink faucets.
The light fixture was a bit of a challenge. I fell in love with a few that were out of my price range, so I settled on a $50 version from my local home improvement store. I added clear glass shades to give the fixture more of a rustic vibe.
Since we don't have the budget right now to replace the shower/tub combo, I gave my current shower situation more of a spa-like feel with a new shower curtain from Walmart and a SprayShaper™ shower head.
I always like to have at least one handheld shower head in my home because they really are the easiest way to bathe kids and pets (indoors, at least). 😉

Speaking of the Waterpik® SprayShaper™, today is the day I announce the giveaway winner of that shower head and a handful of other goodies, courtesy of HGTV star Kelly Edwards. 
Drumroll please …
The winner is Leigh Anne Borders!
Congrats Leigh Anne!
The one project I still have to finish with regard to my master bathroom update is the vanity makeover. Stay tuned for details on that project coming soon.
And in case you forgot the master bathroom "before" …
Do you have any thoughts on why some projects seem to drag on forever? I'd love to figure out the magic formula for getting to "done" faster.