DIY driftwood mirror frame (with no nails or screws)
I am pretty tickled about how today's project turned out, mostly because last month seemed to be DIY disaster month for me. I encountered problem after problem in April with nearly every stinkin' thing I tried! Fortunately, I think I may have broken my unlucky streak (at least for now) because this project came together fairly painlessly.
If you recall, I recently added a driftwood finish to some pine boards using a concoction of vinegar and steel wool followed by a few coats of liming wax.
(For instructions on how to create a driftwood finish, click here.) My goal was to create a mirror frame for the master bathroom out of the boards.
Before building the frame, I needed to replace the two small, outdated mirrors in the master bathroom with one larger mirror. So I took down the old mirrors.
There you are again "Miami Vice" pink …
I cleaned the wall really well and removed all screws. Then I asked the hubs to help me mount the mirror on the wall using mirror adhesive.
The large mirror we used was formerly collecting dust in our basement. I think the contractor who built the house left it there because it had a chip in the corner and he thought it couldn't be used. Silly contractor. 😉
After I emptied the entire tube of mirror adhesive on the back of the mirror, we hoisted it up and positioned it on the wall, resting it on the sink backsplash. I added tape to the top corners to keep it from falling while the adhesive set overnight.
Next came the fun part, building the frame. I used my miter saw to cut four pieces out of the driftwood pine boards: two for the sides of the mirror, one for the top and one for the bottom.
I attached the wood pieces directly to the mirror using Scotch® Outdoor Mounting Tape.
I positioned the four boards on the mirror, leaving about a half inch hanging over the outside edges of the mirror (except for the bottom, which rested on the sink backsplash).
Finally, I added a piece of decorative molding to dress up the top of the frame, which included two small pieces that were designed to wrap around the sides of the frame. I adhered these pieces to the main section of molding with wood glue.
After the side pieces dried, I stuck the whole molding piece to the frame using mounting tape.
Here's the finished mirror and "driftwood" frame: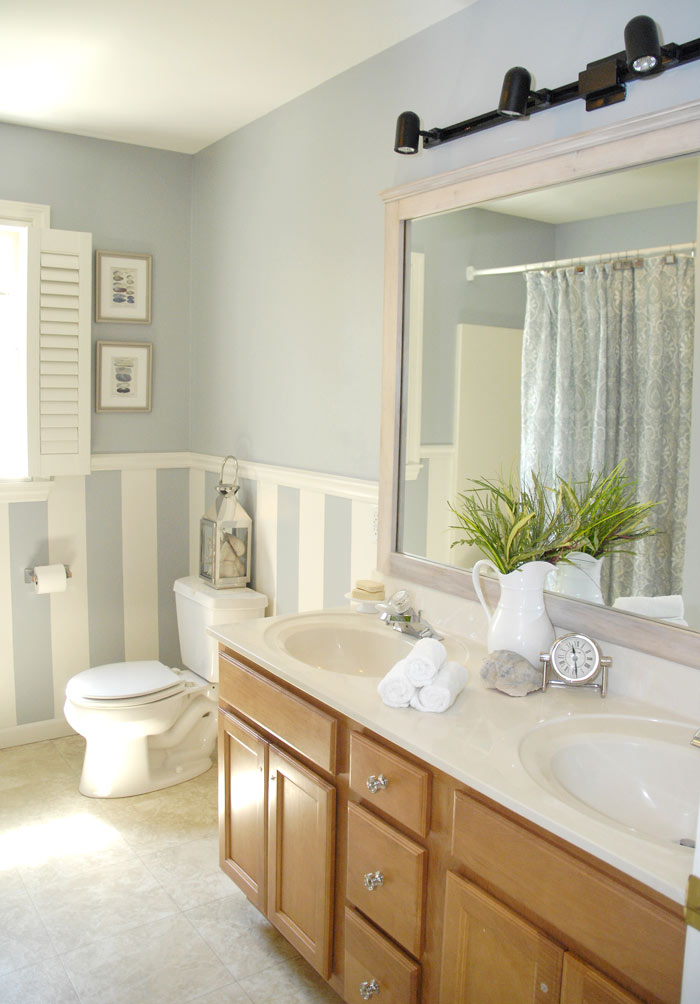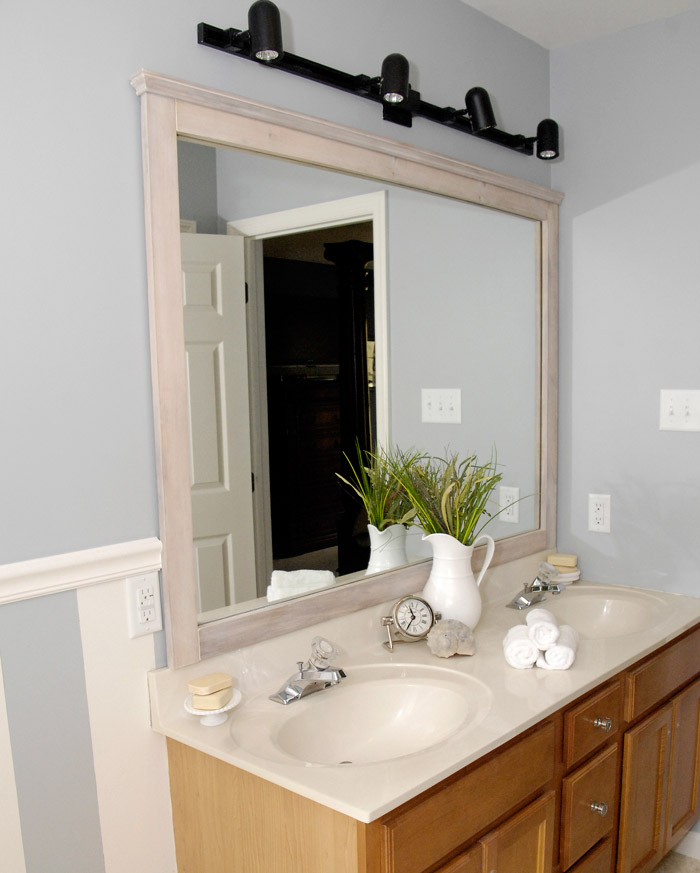 Next up I'll be installing new lighting and plumbing fixtures. FYI, my new gorgeous faucets have been sitting in my dining room for about a week now. I visit them often, picking them up and caressing them like they're my own children. I love them that much. (I wish I was kidding, people.)
What do you think of my DIY driftwood mirror frame?