Holiday home tour
Today I thought I'd share some of the Christmas decorations we've got going on around here. Believe it or not, this is the first year we've added a live tree to the decor, which makes a total of three trees in our house right now. Whew! However, one is in our daughter's bedroom and that space is not fit for pictures, so you won't see it featured in this holiday home tour. 😉
I'll start with our dining room. I decided to go with primarily red, green and gold accents.
I really wanted to incorporate some plaid napkins this year. I got the ones you see in the pictures online from World Market (with a 10 percent off coupon). Plaid seems to be having a moment right now.
I went with a traditional look in the dining room, which means I also tried to incorporate some traditional treats for dinner guests, including this bowl of mixed nuts.
Every year, I have a vision of what I want the main rooms in our house to look like for the holidays, based on inspiration I see in magazines and online. Of course, the vision in my head is often not how things turn out. But at least the basic idea is achieved, hopefully. I'm calling this year's dining room "Chevy Chase Traditional" because it reminds me of decorations you might see in his home in that movie. Would you agree?
Moving on to our living room, I went for more of a natural, rustic look.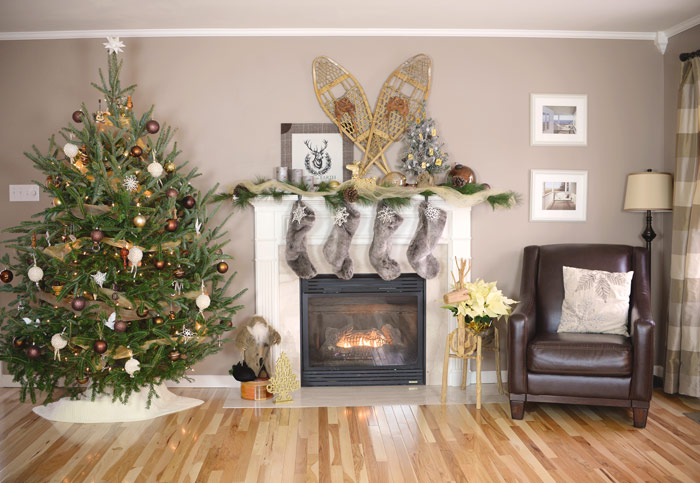 This is the room with the live tree. Gosh, a real tree is a lot of work!
The mantel includes my DIY wooden tag ornaments as well as my Pottery Barn knockoff DIY birch candles and eBay snowshoes.
If you're interested in where I got any of the other mantel decorations, I have a detailed post here.
We displayed our Christmas village on the TV stand in the living room.
My favorite decoration by far is the tiny nativity set I got while on a mission trip to Guatemala.
In the kitchen, I try to keep the counters pretty clear so there's plenty of room for holiday baking. 🙂 I focus mainly on decorating the area above the cabinets.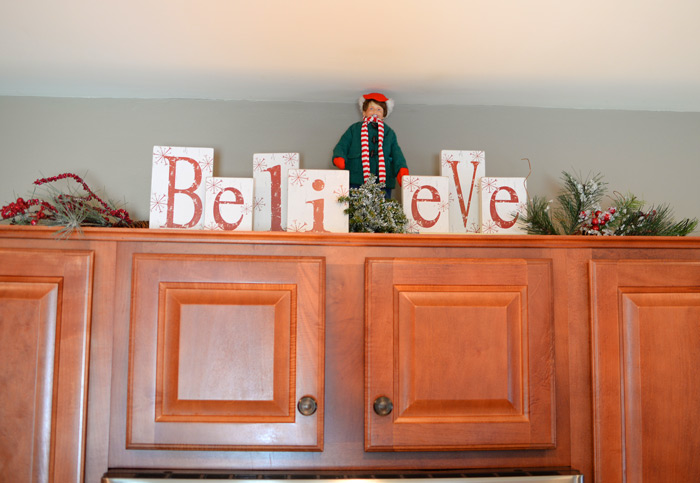 I try to dress the staircase because it's the first thing people see when they walk into our home. I'm still in awe of what a difference my poor-man's wainscoting makes in our entryway.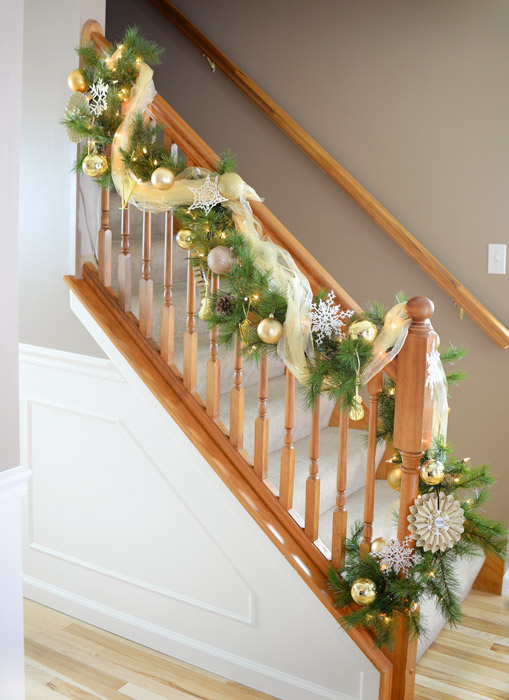 Speaking of thrifty transformations, it still makes me smile every time I look at our front door. It is amazing what some paint and hardware can do!
For details and jaw-dropping before and after photos of our front door redo, click here.
Before I go, I want to remind you that Duluth Trading Co. is giving away $200 worth of gift cards on the blog right now! To get your paws on one of them, hurry over and enter to win here.
Happy holiday decorating!