A bit of basement organization
If you follow me on Instagram or Facebook, perhaps you'll recall this horrifying picture I took of my basement last week.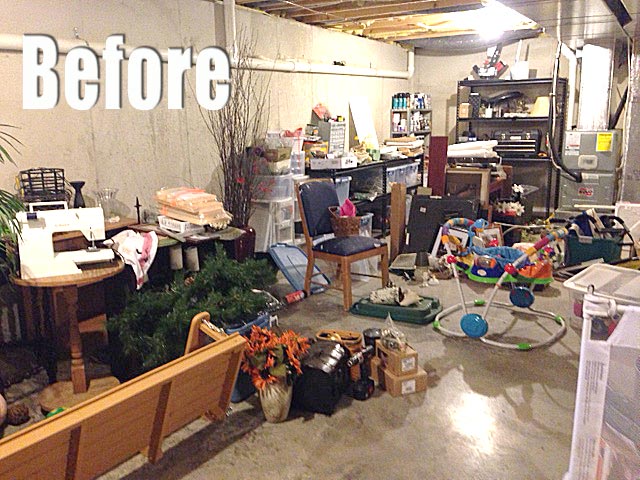 Needless to say, a serious organizing party was in order for this space. I don't know about you, but getting a space organized makes me feel great, like maybe I can keep one little area of my life under control. 😉
Also, I'm reading this fantastic book right now called, "Better than before: Mastering the habits of our everyday lives" by Gretchen Rubin. Like a lot of you, I have a few bad habits I'd like to break and a few good ones I'd like to embrace. This book has helped me gain some insight into how I'm wired. One thing I've learned is that I love transformation, which explains why I'm a sucker for a great "before" and "after" project, and why I'm constantly reading self-help books.
Anyway, I decided to tackle this area of our basement because I'd really like to have some clue where my tools and paint are so I can work more efficiently.
I bought this inexpensive plastic shelf from Lowe's to store my paint supplies. I used the other shelves I already had to organize my decorations, tools, etc.
The first step to total world domination? An organized paint shelf. 😉
I attempted to corral my tools and decorating/organizing supplies into zones.
I already feel so much more productive in this space.
I keep an inspiration notebook out so I can handily reference project ideas.
While my basement work zone is certainly not Martha Stewart-worthy, it makes me smile knowing that if I could tackle this mess, nothing is impossible.
How does organizing a space make you feel?