How to make the easiest curtains ever
Perhaps you'll recall the idiotic dancing that took place recently at Gabriel Brothers when I discovered the store had high-end decorator fabric on sale for less than $2.50 a yard. (If you live near a Gabe's, run to the store right now to get some if you need it.)
I purchased four yards of fabric (totaling less than $10) with an idea for how to make easy curtains and pillows.
So one evening last week, as I was starting dinner, I thought, "Gee, this seems like a great time to make a valance for above the kitchen sink." The hubs was at a meeting and the kids had disappeared somewhere temporarily (probably plotting their mutiny).
So between stirring mac and cheese and putting together peanut butter and jelly sandwiches, I created a spring-worthy kitchen valance. (I've never claimed to be sane, people.)
Of course, because I'm, well, me, this project had to be quick, easy and super cheap. I thought I'd share the details with you so you can whip up one, too (although I wouldn't recommend doing it during dinner prep ;)).
The fabric at Gabe's was sold in two-yard segments. I used one set of two yards and didn't cut the fabric at all. I started by simply folding it in half with the inside facing out.
After I folded it in half perfectly, I used my sewing machine to hem just the bottom all the way across, but not the sides. (I eyeballed about a 3/4-inch hem; I didn't mark it.)
After I hemmed the bottom, I turned the "curtain" right side out again. This left me with a hemmed bottom and two openings at each side.
From there, I decided how wide I wanted my finished valance to be. Then I measured what my current width was.
I figured out how much I needed to reduce each side in order to arrive at my desired width.
I needed to reduce each side by 4.75 inches. So I simply tucked the raw fabric in toward the middle on each side, until each fold was a total of 4.75 inches.
After I had both sides tucked in properly to give me my desired total valance width of 36 inches, I sewed a half-inch hem on both sides, leaving a 2-inch opening at the top for the curtain rod to slide through.
Again, I eyeballed this hem. One trick for keeping a hem straight: I line up the edge of the sewing machine presser foot with the edge of the fabric and use that as a guide as I sew.
After both sides were hemmed (with a 2-inch opening at the top), I ironed the whole "curtain." I also created 2-inch accordion folds (starting from the bottom) and pressed them down with the iron, too.
Next, I hand-sewed my makeshift accordion folds together using a few quick stitches straight through on both sides, about 5 inches in.
To make sure my accordion folds hung perfectly, I ironed on hem tape between the folds to keep them together.
After that, my valance was done!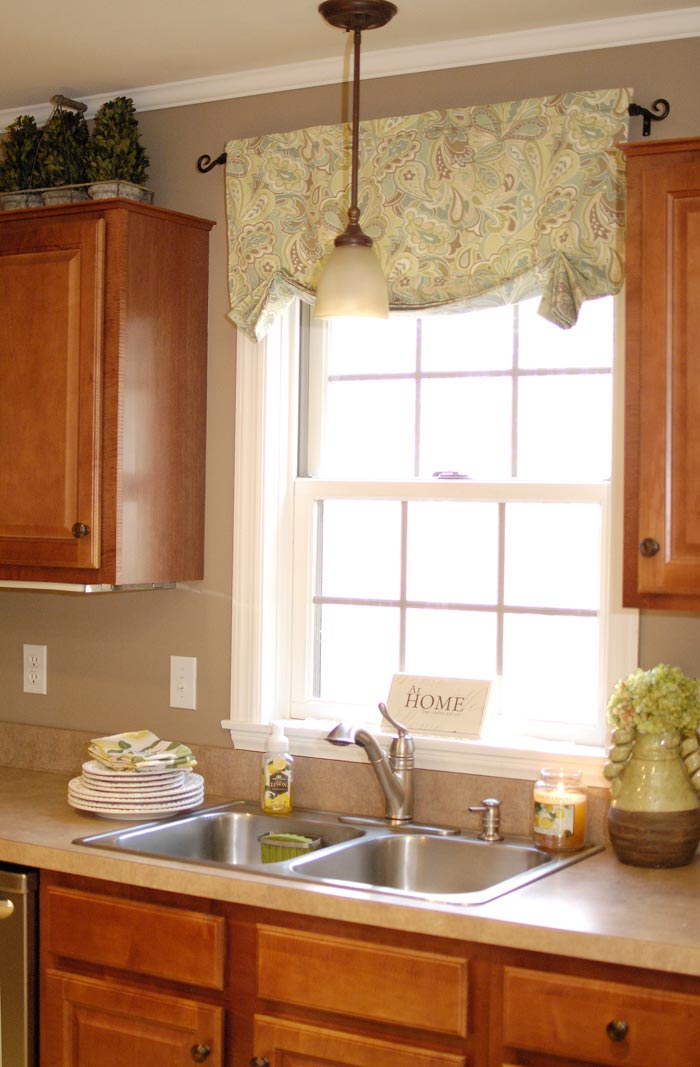 You may notice I sewed an extra hem at the top because I wanted to raise the valance up a bit on the window. This step is optional, not mandatory.
Here's a summary of the project steps:
Fold fabric in half, with the inside facing out.
Hem the bottom (not the sides) where the raw edges come together.
Turn the "curtain" right side out.
Fold in the raw edges on both sides until the valance reaches your desired width.
Add a half-inch hem on each side, leaving about a 2-inch opening at the top for the rod pocket.
Create your desired accordion folds (starting at the bottom) and iron them down.
Hand-stitch the accordion folds together to your desired valance height.
Iron on hem tape if necessary to make the folds hang perfectly.
Install your valance and enjoy!
What do you think of this easy spring curtain? Have you found any great deals on fabric lately?
I'm linking this up to Craft Dictator, My Repurposed Life and Love of Family & Home.